As part of the Unified Community Platform project, this wiki and 38 others will be migrated to the new platform in the next few weeks. Minimal changes are expected as part of this migration. Read more here.
Map
This article is a work-in-progress.
The content and format of this page may change drastically over the next few hours or days.
A new Map has been launched with the start of Season 4 on July 4th 2020 with a 11x11 grid with 568 islands spread out over 121 regions and re-arranged temperate areas. Please bear with us while we update the data for each of the regions.
The world consists of 121 regions forming a grid. Each region represents a dedicated host with 4 other hosts connected at its adjacent borders. All 121 regions follow this same concept creating the vast seamless world of Atlas.
Tip: You can toggle the map grid ingame. Open your inventory and visit the Atlas tab as shown here.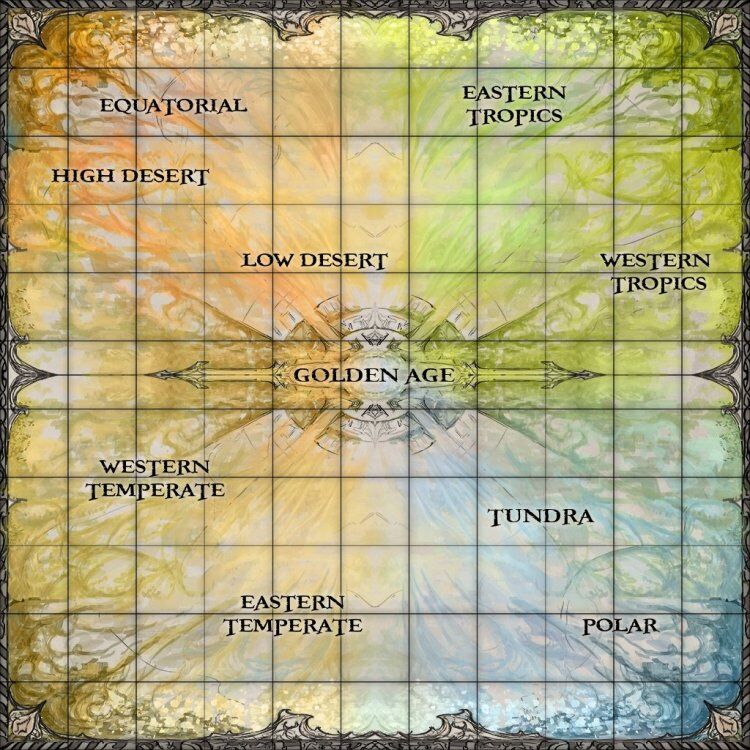 The following table shows all world grid's regions and which islands, animals and resources do spawn there.
Region
Biome
Type
Islands
Resources
Consumables/Plants
Animals


A1

Equatorial
Claimable
Shefcola Island,Digshaw Atoll

This page is a candidate for deletion.

Reason: "Obsolete, already included on the main region page and it is hard to edit on additional pages and nobody wants to see this in the "random page" mechanic also, please"

This page is a candidate for deletion.

Reason: "

Obsolete, already included on the main region page and it is hard to edit on additional pages and nobody wants to see this in the "random page" mechanic also, please

"

This page is a candidate for deletion.

Reason: "Obsolete, already included on the main region page and it is hard to edit on additional pages and nobody wants to see this in the "random page" mechanic also, please"

This page is a candidate for deletion.

Reason: "

Obsolete, already included on the main region page and it is hard to edit on additional pages and nobody wants to see this in the "random page" mechanic also, please

"


A2

Equatorial
Claimable
Ellissend Islet,Tecumtawa Atoll

This page is a candidate for deletion.

Reason: "Obsolete, already included on the main region page and it is hard to edit on additional pages and nobody wants to see this in the "random page" mechanic also, please"

This page is a candidate for deletion.

Reason: "

Obsolete, already included on the main region page and it is hard to edit on additional pages and nobody wants to see this in the "random page" mechanic also, please

"

This page is a candidate for deletion.

Reason: "Obsolete, already included on the main region page and it is hard to edit on additional pages and nobody wants to see this in the "random page" mechanic also, please"

This page is a candidate for deletion.

Reason: "

Obsolete, already included on the main region page and it is hard to edit on additional pages and nobody wants to see this in the "random page" mechanic also, please

"




This page is a candidate for deletion.

Reason: "Obsolete, already included on the main region page and it is hard to edit on additional pages and nobody wants to see this in the "random page" mechanic also, please"

This page is a candidate for deletion.

Reason: "

Obsolete, already included on the main region page and it is hard to edit on additional pages and nobody wants to see this in the "random page" mechanic also, please

"


A3

Equatorial
Claimable
Deldes Isle,Allerdon Islet

This page is a candidate for deletion.

Reason: "Obsolete, already included on the main region page and it is hard to edit on additional pages and nobody wants to see this in the "random page" mechanic also, please"

This page is a candidate for deletion.

Reason: "

Obsolete, already included on the main region page and it is hard to edit on additional pages and nobody wants to see this in the "random page" mechanic also, please

"

This page is a candidate for deletion.

Reason: "Obsolete, already included on the main region page and it is hard to edit on additional pages and nobody wants to see this in the "random page" mechanic also, please"

This page is a candidate for deletion.

Reason: "

Obsolete, already included on the main region page and it is hard to edit on additional pages and nobody wants to see this in the "random page" mechanic also, please

"

This page is a candidate for deletion.

Reason: "Obsolete, already included on the main region page and it is hard to edit on additional pages and nobody wants to see this in the "random page" mechanic also, please"

This page is a candidate for deletion.

Reason: "

Obsolete, already included on the main region page and it is hard to edit on additional pages and nobody wants to see this in the "random page" mechanic also, please

"


A4

Equatorial
Claimable
Luseden Archipelago,Hampnoque Refuge

Moved to the only page that used it

This page is a candidate for deletion.

Reason: "Obsolete, already included on the main region page and it is hard to edit on additional pages and nobody wants to see this in the "random page" mechanic also, please"

This page is a candidate for deletion.

Reason: "

Obsolete, already included on the main region page and it is hard to edit on additional pages and nobody wants to see this in the "random page" mechanic also, please

"


A5

Western Temperate
Claimable
Playnia Holm,Chanwater Island

This page is a candidate for deletion.

Reason: "Obsolete, already included on the main region page and it is hard to edit on additional pages and nobody wants to see this in the "random page" mechanic also, please"

This page is a candidate for deletion.

Reason: "

Obsolete, already included on the main region page and it is hard to edit on additional pages and nobody wants to see this in the "random page" mechanic also, please

"

This page is a candidate for deletion.

Reason: "Obsolete, already included on the main region page and it is hard to edit on additional pages and nobody wants to see this in the "random page" mechanic also, please"

This page is a candidate for deletion.

Reason: "

Obsolete, already included on the main region page and it is hard to edit on additional pages and nobody wants to see this in the "random page" mechanic also, please

"

This page is a candidate for deletion.

Reason: "Obsolete, already included on the main region page and it is hard to edit on additional pages and nobody wants to see this in the "random page" mechanic also, please"

This page is a candidate for deletion.

Reason: "

Obsolete, already included on the main region page and it is hard to edit on additional pages and nobody wants to see this in the "random page" mechanic also, please

"


A6

Western Temperate
Claimable
Kesbun Rock,Fordal Island,The Drofase Isles


A7

Western Temperate
Claimable
The Harmonious Island,Bassard Island,Flemfield Haven

Moved to the only page that used it

This page is a candidate for deletion.

Reason: "Obsolete, already included on the main region page and it is hard to edit on additional pages and nobody wants to see this in the "random page" mechanic also, please"

This page is a candidate for deletion.

Reason: "

Obsolete, already included on the main region page and it is hard to edit on additional pages and nobody wants to see this in the "random page" mechanic also, please

"

This page is a candidate for deletion.

Reason: "Obsolete, already included on the main region page and it is hard to edit on additional pages and nobody wants to see this in the "random page" mechanic also, please"

This page is a candidate for deletion.

Reason: "

Obsolete, already included on the main region page and it is hard to edit on additional pages and nobody wants to see this in the "random page" mechanic also, please

"


A8

Western Temperate
Claimable
Nokonan Island,Stambel Key

Moved to the only page that used it

Moved to the only page that used it


A9

Western Temperate
Claimable
Appleheller Isles,Unstabke Island

This page is a candidate for deletion.

Reason: "Obsolete, already included on the main region page and it is hard to edit on additional pages and nobody wants to see this in the "random page" mechanic also, please"

This page is a candidate for deletion.

Reason: "

Obsolete, already included on the main region page and it is hard to edit on additional pages and nobody wants to see this in the "random page" mechanic also, please

"

This page is a candidate for deletion.

Reason: "Obsolete, already included on the main region page and it is hard to edit on additional pages and nobody wants to see this in the "random page" mechanic also, please"

This page is a candidate for deletion.

Reason: "

Obsolete, already included on the main region page and it is hard to edit on additional pages and nobody wants to see this in the "random page" mechanic also, please

"

This page is a candidate for deletion.

Reason: "Obsolete, already included on the main region page and it is hard to edit on additional pages and nobody wants to see this in the "random page" mechanic also, please"

This page is a candidate for deletion.

Reason: "

Obsolete, already included on the main region page and it is hard to edit on additional pages and nobody wants to see this in the "random page" mechanic also, please

"


A10

Western Temperate
Claimable
Caraly Isle,Barford Skerry,Boucherbel Enclave

This page is a candidate for deletion.

Reason: "Obsolete, already included on the main region page and it is hard to edit on additional pages and nobody wants to see this in the "random page" mechanic also, please"

This page is a candidate for deletion.

Reason: "

Obsolete, already included on the main region page and it is hard to edit on additional pages and nobody wants to see this in the "random page" mechanic also, please

"

This page is a candidate for deletion.

Reason: "Obsolete, already included on the main region page and it is hard to edit on additional pages and nobody wants to see this in the "random page" mechanic also, please"

This page is a candidate for deletion.

Reason: "

Obsolete, already included on the main region page and it is hard to edit on additional pages and nobody wants to see this in the "random page" mechanic also, please

"

This page is a candidate for deletion.

Reason: "Obsolete, already included on the main region page and it is hard to edit on additional pages and nobody wants to see this in the "random page" mechanic also, please"

This page is a candidate for deletion.

Reason: "

Obsolete, already included on the main region page and it is hard to edit on additional pages and nobody wants to see this in the "random page" mechanic also, please

"


A11

Western Temperate
Claimable
Readborough Island,Rochgamau Island

This page is a candidate for deletion.

Reason: "Obsolete, already included on the main region page and it is hard to edit on additional pages and nobody wants to see this in the "random page" mechanic also, please"

This page is a candidate for deletion.

Reason: "

Obsolete, already included on the main region page and it is hard to edit on additional pages and nobody wants to see this in the "random page" mechanic also, please

"

This page is a candidate for deletion.

Reason: "Obsolete, already included on the main region page and it is hard to edit on additional pages and nobody wants to see this in the "random page" mechanic also, please"

This page is a candidate for deletion.

Reason: "

Obsolete, already included on the main region page and it is hard to edit on additional pages and nobody wants to see this in the "random page" mechanic also, please

"

This page is a candidate for deletion.

Reason: "Obsolete, already included on the main region page and it is hard to edit on additional pages and nobody wants to see this in the "random page" mechanic also, please"

This page is a candidate for deletion.

Reason: "

Obsolete, already included on the main region page and it is hard to edit on additional pages and nobody wants to see this in the "random page" mechanic also, please

"

Region
Biome
Type
Islands
Resources
Consumables/Plants
Animals


B1

Equatorial
Claimable
Croyterel Refuge,The Haunted Islet


B2

High Desert
Claimable
Boothliers Ait,The Flamingo Archipelago,The Veiled Chain,Beverfail Atoll


B3

High Desert
Claimable
Malarwood Chain,Antibron Refuge,The Dancing Haven,Rossby Ait


B4

Low Desert
Claimable
Northquest Island,Lindiac Chain,Mighty Islet

This page is a candidate for deletion.

Reason: "Obsolete, already included on the main region page and it is hard to edit on additional pages and nobody wants to see this in the "random page" mechanic also, please"

This page is a candidate for deletion.

Reason: "

Obsolete, already included on the main region page and it is hard to edit on additional pages and nobody wants to see this in the "random page" mechanic also, please

"

This page is a candidate for deletion.

Reason: "Obsolete, already included on the main region page and it is hard to edit on additional pages and nobody wants to see this in the "random page" mechanic also, please"

This page is a candidate for deletion.

Reason: "

Obsolete, already included on the main region page and it is hard to edit on additional pages and nobody wants to see this in the "random page" mechanic also, please

"

This page is a candidate for deletion.

Reason: "Obsolete, already included on the main region page and it is hard to edit on additional pages and nobody wants to see this in the "random page" mechanic also, please"

This page is a candidate for deletion.

Reason: "

Obsolete, already included on the main region page and it is hard to edit on additional pages and nobody wants to see this in the "random page" mechanic also, please

"


B5

Equatorial
Claimable
Hillburns Archipelago,The Depraved Reef,Somerhill Refuge,Gandale Haven

Since it only appeared in one page, moved the information to Region B5 to simplify and encourage contributions.

This page is a candidate for deletion.

Reason: "Obsolete, already included on the main region page and it is hard to edit on additional pages and nobody wants to see this in the "random page" mechanic also, please"

This page is a candidate for deletion.

Reason: "

Obsolete, already included on the main region page and it is hard to edit on additional pages and nobody wants to see this in the "random page" mechanic also, please

"


B6

Eastern Temperate
Claimable
Avonder Isle,The Killing Isles,Kinideen Key,Winderden Island,Halistall Islet,Shrewsmer Cay,Wapedeen Island


B7

Western Temperate
Claimable
The Cheering Isle,Keeltawa Haven,Gibtois Refuge,Doland Atoll

This page is a candidate for deletion.

Reason: "Obsolete, already included on the main region page and it is hard to edit on additional pages and nobody wants to see this in the "random page" mechanic also, please"

This page is a candidate for deletion.

Reason: "

Obsolete, already included on the main region page and it is hard to edit on additional pages and nobody wants to see this in the "random page" mechanic also, please

"

This page is a candidate for deletion.

Reason: "Obsolete, already included on the main region page and it is hard to edit on additional pages and nobody wants to see this in the "random page" mechanic also, please"

This page is a candidate for deletion.

Reason: "

Obsolete, already included on the main region page and it is hard to edit on additional pages and nobody wants to see this in the "random page" mechanic also, please

"


B8

Western Temperate
Claimable
Hinghead Island,Bracepool Holm

Moved to the only page that used it

Moved to the only page that used it


B9

Western Temperate
Claimable
The Sharp-peaked Key,Allerbel Cay
Moved info to the only page that used it.
Moved info to the only page that used it


B10

Western Temperate
Claimable
The Seashell Isle,Krakens Bay,Ringher Isle


B11

Western Temperate
Claimable
Emerald Peninsula,Bayney Atoll
Region
Biome
Type
Islands
Resources
Consumables/Plants
Animals


C1

Equatorial
Claimable
The Defeated Island,The Hopeless Reef

Moved to Region C1#Discovered Resources


C2

High Desert
Claimable
The Turbulent Islet,Campmer Holm,The Stingray Archipelago


C3

Low Desert
Claimable
Bloomslis,Bergamot Atoll,Terhill Enclave


C4

Low Desert
Freeport
C4 Freeport Western Island,C4 Freeport Northern Island,C4 Freeport Eastern Island,C4 Freeport Southern Island

This page is a candidate for deletion.

Reason: "Obsolete, already included on the main region page and it is hard to edit on additional pages and nobody wants to see this in the "random page" mechanic also, please"

This page is a candidate for deletion.

Reason: "

Obsolete, already included on the main region page and it is hard to edit on additional pages and nobody wants to see this in the "random page" mechanic also, please

"

This page is a candidate for deletion.

Reason: "Obsolete, already included on the main region page and it is hard to edit on additional pages and nobody wants to see this in the "random page" mechanic also, please"

This page is a candidate for deletion.

Reason: "

Obsolete, already included on the main region page and it is hard to edit on additional pages and nobody wants to see this in the "random page" mechanic also, please

"

This page is a candidate for deletion.

Reason: "Obsolete, already included on the main region page and it is hard to edit on additional pages and nobody wants to see this in the "random page" mechanic also, please"

This page is a candidate for deletion.

Reason: "

Obsolete, already included on the main region page and it is hard to edit on additional pages and nobody wants to see this in the "random page" mechanic also, please

"


C5

Equatorial
Lawless Region
Stoughcam Haven,Salismar Cay,Brightdurn Islands,Itugami Island,Effinglam Peninsula


C6

Eastern Temperate
Lawless Region
Magriden Holm,Bereslet Reef,Bonedry Island,Forddurn Cay,Marlgue Isles

This page is a candidate for deletion.

Reason: "Obsolete, already included on the main region page and it is hard to edit on additional pages and nobody wants to see this in the "random page" mechanic also, please"

This page is a candidate for deletion.

Reason: "

Obsolete, already included on the main region page and it is hard to edit on additional pages and nobody wants to see this in the "random page" mechanic also, please

"

This page is a candidate for deletion.

Reason: "Obsolete, already included on the main region page and it is hard to edit on additional pages and nobody wants to see this in the "random page" mechanic also, please"

This page is a candidate for deletion.

Reason: "

Obsolete, already included on the main region page and it is hard to edit on additional pages and nobody wants to see this in the "random page" mechanic also, please

"

Move info to the only page that used it

This page is a candidate for deletion.

Reason: "Obsolete, already included on the main region page and it is hard to edit on additional pages and nobody wants to see this in the "random page" mechanic also, please"

This page is a candidate for deletion.

Reason: "

Obsolete, already included on the main region page and it is hard to edit on additional pages and nobody wants to see this in the "random page" mechanic also, please

"


C7

Western Temperate
Lawless Region
Rimounear Enclave,Whitewe Islet,Ganarial Island


C8

Eastern Temperate
Claimable
Tranquil Island,Pladosa Island,Bredenmark Reef,Cochline Isles

Moved info to the only page that used it

Obsolete

This page is a candidate for deletion.

Reason: "Obsolete, already included on the main region page and it is hard to edit on additional pages and nobody wants to see this in the "random page" mechanic also, please"

This page is a candidate for deletion.

Reason: "

Obsolete, already included on the main region page and it is hard to edit on additional pages and nobody wants to see this in the "random page" mechanic also, please

"

Obsoleted


C9

Western Temperate
Claimable
The Adamantine Refuge,Gravetown Island,Miltown Enclave


C10

Western Temperate
Claimable
Wrentcana Island,Broadstead Island,Applepar Cay,Eastdon Cay

This page is a candidate for deletion.

Reason: "Obsolete, already included on the main region page and it is hard to edit on additional pages and nobody wants to see this in the "random page" mechanic also, please"

This page is a candidate for deletion.

Reason: "

Obsolete, already included on the main region page and it is hard to edit on additional pages and nobody wants to see this in the "random page" mechanic also, please

"

This page is a candidate for deletion.

Reason: "Obsolete, already included on the main region page and it is hard to edit on additional pages and nobody wants to see this in the "random page" mechanic also, please"

This page is a candidate for deletion.

Reason: "

Obsolete, already included on the main region page and it is hard to edit on additional pages and nobody wants to see this in the "random page" mechanic also, please

"

This page is a candidate for deletion.

Reason: "Obsolete, already included on the main region page and it is hard to edit on additional pages and nobody wants to see this in the "random page" mechanic also, please"

This page is a candidate for deletion.

Reason: "

Obsolete, already included on the main region page and it is hard to edit on additional pages and nobody wants to see this in the "random page" mechanic also, please

"


C11

Western Temperate
Claimable
Mahostable Island,Causabo Haven,The Immense Reef

This page is a candidate for deletion.

Reason: "Obsolete, already included on the main region page and it is hard to edit on additional pages and nobody wants to see this in the "random page" mechanic also, please"

This page is a candidate for deletion.

Reason: "

Obsolete, already included on the main region page and it is hard to edit on additional pages and nobody wants to see this in the "random page" mechanic also, please

"

This page is a candidate for deletion.

Reason: "Obsolete, already included on the main region page and it is hard to edit on additional pages and nobody wants to see this in the "random page" mechanic also, please"

This page is a candidate for deletion.

Reason: "

Obsolete, already included on the main region page and it is hard to edit on additional pages and nobody wants to see this in the "random page" mechanic also, please

"

This page is a candidate for deletion.

Reason: "Obsolete, already included on the main region page and it is hard to edit on additional pages and nobody wants to see this in the "random page" mechanic also, please"

This page is a candidate for deletion.

Reason: "

Obsolete, already included on the main region page and it is hard to edit on additional pages and nobody wants to see this in the "random page" mechanic also, please

"

Region
Biome
Type
Islands
Resources
Consumables/Plants
Animals


D1

Equatorial
Claimable
Gloversend Islands,The Red Enclave


D2

High Desert
Claimable
The Waterless Atoll,The Shadowy Key,Pachampton Island

This page is a candidate for deletion.

Reason: "Obsolete, already included on the main region page and it is hard to edit on additional pages and nobody wants to see this in the "random page" mechanic also, please"

This page is a candidate for deletion.

Reason: "

Obsolete, already included on the main region page and it is hard to edit on additional pages and nobody wants to see this in the "random page" mechanic also, please

"


D3

Low Desert
Claimable
The New Atoll,Terrennear Refuge,Eatoswell Island,The Black Chain


D4

Low Desert
Lawless Region
Comgue Peninsula,Lockethon Isle,Expond Key,Beverfail Atoll,Chamgonie Isles

This page is a candidate for deletion.

Reason: "Already included on the main region page 'cause it is hard to edit on additional pages (particularly on smartphones). And nobody wants to see this in the "random page" mechanic too"

This page is a candidate for deletion.

Reason: "

Already included on the main region page 'cause it is hard to edit on additional pages (particularly on smartphones). And nobody wants to see this in the "random page" mechanic too

"

This page is a candidate for deletion.

Reason: "Already included on the main region page 'cause it is hard to edit on additional pages (particularly on smartphones). And nobody wants to see this in the "random page" mechanic too"

This page is a candidate for deletion.

Reason: "

Already included on the main region page 'cause it is hard to edit on additional pages (particularly on smartphones). And nobody wants to see this in the "random page" mechanic too

"


D5

Eastern Temperate
Lawless Region
Turtle Island,The Colossal Atoll,Laniston Chain,Gorgon's Haven,Ridgecana Islet

Moved to the only page that used it


D6

Eastern Temperate
Lawless Region
Hammere Cay,Shauna Holm,The Squid Key,Minifil Island,The Seagrass Atoll,Chever Archipelago


D7

Eastern Temperate
Lawless Region
Richbonear Chain,Delisborg Cay,Camswell Islet,Brifield Isle,Kerrocroft Island,The Ancient Enclave

This page is a candidate for deletion.

Reason: "Obsolete, already included on the main region page and it is hard to edit on additional pages and nobody wants to see this in the "random page" mechanic also, please"

This page is a candidate for deletion.

Reason: "

Obsolete, already included on the main region page and it is hard to edit on additional pages and nobody wants to see this in the "random page" mechanic also, please

"

This page is a candidate for deletion.

Reason: "Obsolete, already included on the main region page and it is hard to edit on additional pages and nobody wants to see this in the "random page" mechanic also, please"

This page is a candidate for deletion.

Reason: "

Obsolete, already included on the main region page and it is hard to edit on additional pages and nobody wants to see this in the "random page" mechanic also, please

"


D8

Eastern Temperate
Lawless Region
The Haunted Key,Whitgar Archipelago,Wigsant Retreat,Halkidi Cove

This page is a candidate for deletion.

Reason: "Obsolete, already included on the main region page and it is hard to edit on additional pages and nobody wants to see this in the "random page" mechanic also, please"

This page is a candidate for deletion.

Reason: "

Obsolete, already included on the main region page and it is hard to edit on additional pages and nobody wants to see this in the "random page" mechanic also, please

"


D9

Eastern Temperate
Freeport
D9 Freeport Western Island,D9 Freeport Northern Island,D9 Freeport Eastern Island,D9 Freeport Southern Island

Moved to the only page that used it

Moved to the only page that used it


D10

Western Temperate
Claimable
The Gloomy Isle,Colipar Peninsula,Bentisle Refuge,The Eroded Haven

This page is a candidate for deletion.

Reason: "Obsolete, already included on the main region page and it is hard to edit on additional pages and nobody wants to see this in the "random page" mechanic also, please"

This page is a candidate for deletion.

Reason: "

Obsolete, already included on the main region page and it is hard to edit on additional pages and nobody wants to see this in the "random page" mechanic also, please

"

This page is a candidate for deletion.

Reason: "Obsolete, already included on the main region page and it is hard to edit on additional pages and nobody wants to see this in the "random page" mechanic also, please"

This page is a candidate for deletion.

Reason: "

Obsolete, already included on the main region page and it is hard to edit on additional pages and nobody wants to see this in the "random page" mechanic also, please

"


D11

Eastern Temperate
Claimable
Granding Islands,Causagar Skerry,The Harmonious Reef
Region
Biome
Type
Islands
Resources
Consumables/Plants
Animals


E1

Equatorial
Claimable
Caleson Island,The Barracude Refuge

This page is a candidate for deletion.

Reason: "Obsolete, already included on the main region page and it is hard to edit on additional pages and nobody wants to see this in the "random page" mechanic also, please"

This page is a candidate for deletion.

Reason: "

Obsolete, already included on the main region page and it is hard to edit on additional pages and nobody wants to see this in the "random page" mechanic also, please

"


E2

Equatorial
Claimable
Cresney Cay,Halgue Key


E3

Equatorial
Lawless Region
Readwich Peninsula,Fallcaster Isles,Brimingcona Haven,Attleburg Reef


E4

Low Desert
Lawless Region
Nicoterre Island,The Flowing Ait,The Whale Enclave,Farnterre Enclave,Barcam Reef

This page is a candidate for deletion.

Reason: "Obsolete, already included on the main region page and it is hard to edit on additional pages and nobody wants to see this in the "random page" mechanic also, please"

This page is a candidate for deletion.

Reason: "

Obsolete, already included on the main region page and it is hard to edit on additional pages and nobody wants to see this in the "random page" mechanic also, please

"

This page is a candidate for deletion.

Reason: "Obsolete, already included on the main region page and it is hard to edit on additional pages and nobody wants to see this in the "random page" mechanic also, please"

This page is a candidate for deletion.

Reason: "

Obsolete, already included on the main region page and it is hard to edit on additional pages and nobody wants to see this in the "random page" mechanic also, please

"

This page is a candidate for deletion.

Reason: "Obsolete, already included on the main region page and it is hard to edit on additional pages and nobody wants to see this in the "random page" mechanic also, please"

This page is a candidate for deletion.

Reason: "

Obsolete, already included on the main region page and it is hard to edit on additional pages and nobody wants to see this in the "random page" mechanic also, please

"


E5

Low Desert
Golden Age Ruins
Crescana Isle,Sinkasing Island

This page is a candidate for deletion.

Reason: "Already included on the main region page 'cause it is hard to edit on additional pages (particularly on smartphones). And nobody wants to see this in the "random page" mechanic too"

This page is a candidate for deletion.

Reason: "

Already included on the main region page 'cause it is hard to edit on additional pages (particularly on smartphones). And nobody wants to see this in the "random page" mechanic too

"

This page is a candidate for deletion.

Reason: "Already included on the main region page 'cause it is hard to edit on additional pages (particularly on smartphones). And nobody wants to see this in the "random page" mechanic too"

This page is a candidate for deletion.

Reason: "

Already included on the main region page 'cause it is hard to edit on additional pages (particularly on smartphones). And nobody wants to see this in the "random page" mechanic too

"

This page is a candidate for deletion.

Reason: "Already included on the main region page 'cause it is hard to edit on additional pages (particularly on smartphones). And nobody wants to see this in the "random page" mechanic too"

This page is a candidate for deletion.

Reason: "

Already included on the main region page 'cause it is hard to edit on additional pages (particularly on smartphones). And nobody wants to see this in the "random page" mechanic too

"


E6

Low Desert
Golden Age Ruins
Rossraine Island


E7

Eastern Temperate
Golden Age Ruins
Salisroy Peninsula


E7

Eastern Temperate
Golden Age Ruins
Salisroy Peninsula

,Pass of Horrors ,Lord Ungar's Keep ,Tower of the Dawn ,The Orange Stone of Power


E8

Eastern Temperate
Lawless Region
Okograve Islands,Hepvons Reef,Sherrood Island,Notbron Ait,Moonlit Haven


E9

Eastern Temperate
Lawless Region
The Bare Enclave,Latchgrave Ait,The Haunted Peninsula,Amnia Refuge


E10

Eastern Temperate
Claimable
Grandmeda Reef,The Bland Haven,Chilgeo Enclave,Radmark Skerry

This page is a candidate for deletion.

Reason: "Already included on the main region page 'cause it is hard to edit on additional pages (particularly on smartphones). And nobody wants to see this in the "random page" mechanic too"

This page is a candidate for deletion.

Reason: "

Already included on the main region page 'cause it is hard to edit on additional pages (particularly on smartphones). And nobody wants to see this in the "random page" mechanic too

"

This page is a candidate for deletion.

Reason: "Already included on the main region page 'cause it is hard to edit on additional pages (particularly on smartphones). And nobody wants to see this in the "random page" mechanic too"

This page is a candidate for deletion.

Reason: "

Already included on the main region page 'cause it is hard to edit on additional pages (particularly on smartphones). And nobody wants to see this in the "random page" mechanic too

"

This page is a candidate for deletion.

Reason: "Already included on the main region page 'cause it is hard to edit on additional pages (particularly on smartphones). And nobody wants to see this in the "random page" mechanic too"

This page is a candidate for deletion.

Reason: "

Already included on the main region page 'cause it is hard to edit on additional pages (particularly on smartphones). And nobody wants to see this in the "random page" mechanic too

"


E11

Eastern Temperate
Claimable
Prescola Island,Battlena Island

This page is a candidate for deletion.

Reason: "Obsolete, already included on the main region page and it is hard to edit on additional pages and nobody wants to see this in the "random page" mechanic also, please"

This page is a candidate for deletion.

Reason: "

Obsolete, already included on the main region page and it is hard to edit on additional pages and nobody wants to see this in the "random page" mechanic also, please

"

Region
Biome
Type
Islands
Resources
Consumables/Plants
Animals


F1

Eastern Tropical
Claimable
Ridgeshire Island,Troheller Key,Seashell Reef

This page is a candidate for deletion.

Reason: "obsolete: Already replaced on the main region page and this website shouldn't be part of the "random link" mechanic"

This page is a candidate for deletion.

Reason: "

obsolete: Already replaced on the main region page and this website shouldn't be part of the "random link" mechanic

"


F2

Eastern Tropical
Claimable
The Rippling Haven,Horsnet Key

This page is a candidate for deletion.

Reason: "Obsolete, already included on the main region page and it is hard to edit on additional pages and nobody wants to see this in the "random page" mechanic also, please"

This page is a candidate for deletion.

Reason: "

Obsolete, already included on the main region page and it is hard to edit on additional pages and nobody wants to see this in the "random page" mechanic also, please

"

This page is a candidate for deletion.

Reason: "Obsolete, already included on the main region page and it is hard to edit on additional pages and nobody wants to see this in the "random page" mechanic also, please"

This page is a candidate for deletion.

Reason: "

Obsolete, already included on the main region page and it is hard to edit on additional pages and nobody wants to see this in the "random page" mechanic also, please

"

This page is a candidate for deletion.

Reason: "Obsolete, already included on the main region page and it is hard to edit on additional pages and nobody wants to see this in the "random page" mechanic also, please"

This page is a candidate for deletion.

Reason: "

Obsolete, already included on the main region page and it is hard to edit on additional pages and nobody wants to see this in the "random page" mechanic also, please

"


F3

Equatorial
Lawless Region
Trito Enclave,Robrial Isles,The Gray Island,Ogegami Island,The Giant Holm


F4

Equatorial
Lawless Region
Hermicord Island,The Withered Archipelago,The Oyster Bay Atoll,Hermicord Island,Croyberry Island


F5

Equatorial
Golden Age Ruins
Isle of Paradise,Dunkin's Rest,Doonutz Rock


F5

Equatorial
Golden Age Ruins
Isle of Paradise,Dunkin's Rest,Doonutz Rock

,The Highest View ,The Lost Library ,The Purple Stone of Power


F6

EndBoss
Central Maw
See Region F6#Discovered Resources

This page is a candidate for deletion.

Reason: "Already included on the main region page 'cause it is hard to edit on additional pages (particularly on smartphones). And nobody wants to see this in the "random page" mechanic too"

This page is a candidate for deletion.

Reason: "

Already included on the main region page 'cause it is hard to edit on additional pages (particularly on smartphones). And nobody wants to see this in the "random page" mechanic too

"


F7

Eastern Temperate
Golden Age Ruins
Gravenval Cay

Only used on one page. Moved there.


F7

Eastern Temperate
Golden Age Ruins
Gravenval Cay

Only used on one page. Moved there.


F8

Eastern Tundra
Lawless Region
Grafsor Island,Mentou Enclave,Readmeny Reef,Dignigan Island,The Sanctum Enclave
Chert


F9

Eastern Temperate
Lawless Region
Bigsevain Atoll,Cracked Rock,Doon's Paradise


F10

Eastern Tundra
Claimable
Carignola Refuge,Boxworth Isle

This page is a candidate for deletion.

Reason: "Obsolete, already included on the main region page and it is hard to edit on additional pages and nobody wants to see this in the "random page" mechanic also, please"

This page is a candidate for deletion.

Reason: "

Obsolete, already included on the main region page and it is hard to edit on additional pages and nobody wants to see this in the "random page" mechanic also, please

"

This page is a candidate for deletion.

Reason: "Obsolete, already included on the main region page and it is hard to edit on additional pages and nobody wants to see this in the "random page" mechanic also, please"

This page is a candidate for deletion.

Reason: "

Obsolete, already included on the main region page and it is hard to edit on additional pages and nobody wants to see this in the "random page" mechanic also, please

"

This page is a candidate for deletion.

Reason: "Obsolete, already included on the main region page and it is hard to edit on additional pages and nobody wants to see this in the "random page" mechanic also, please"

This page is a candidate for deletion.

Reason: "

Obsolete, already included on the main region page and it is hard to edit on additional pages and nobody wants to see this in the "random page" mechanic also, please

"


F11

Eastern Tundra
Claimable
The Bare Skerry,Eplow Key,The Lightest Isles

This page is a candidate for deletion.

Reason: "Obsolete, already included on the main region page and it is hard to edit on additional pages and nobody wants to see this in the "random page" mechanic also, please"

This page is a candidate for deletion.

Reason: "

Obsolete, already included on the main region page and it is hard to edit on additional pages and nobody wants to see this in the "random page" mechanic also, please

"

This page is a candidate for deletion.

Reason: "Obsolete, already included on the main region page and it is hard to edit on additional pages and nobody wants to see this in the "random page" mechanic also, please"

This page is a candidate for deletion.

Reason: "

Obsolete, already included on the main region page and it is hard to edit on additional pages and nobody wants to see this in the "random page" mechanic also, please

"

This page is a candidate for deletion.

Reason: "Obsolete, already included on the main region page and it is hard to edit on additional pages and nobody wants to see this in the "random page" mechanic also, please"

This page is a candidate for deletion.

Reason: "

Obsolete, already included on the main region page and it is hard to edit on additional pages and nobody wants to see this in the "random page" mechanic also, please

"

Region
Biome
Type
Islands
Resources
Consumables/Plants
Animals


G1

Eastern Tropical
Claimable
Stockfait Key,Penwood Island,Wintry Skerry

This page is a candidate for deletion.

Reason: "Obsolete, already included on the main region page and it is hard to edit on additional pages and nobody wants to see this in the "random page" mechanic also, please"

This page is a candidate for deletion.

Reason: "

Obsolete, already included on the main region page and it is hard to edit on additional pages and nobody wants to see this in the "random page" mechanic also, please

"

This page is a candidate for deletion.

Reason: "Obsolete, already included on the main region page and it is hard to edit on additional pages and nobody wants to see this in the "random page" mechanic also, please"

This page is a candidate for deletion.

Reason: "

Obsolete, already included on the main region page and it is hard to edit on additional pages and nobody wants to see this in the "random page" mechanic also, please

"

This page is a candidate for deletion.

Reason: "Obsolete, already included on the main region page and it is hard to edit on additional pages and nobody wants to see this in the "random page" mechanic also, please"

This page is a candidate for deletion.

Reason: "

Obsolete, already included on the main region page and it is hard to edit on additional pages and nobody wants to see this in the "random page" mechanic also, please

"


G2

Eastern Tropical
Claimable
Chibouwe Ait,The Barracuda Reef,Expond Key,Fairher Cay

This page is a candidate for deletion.

Reason: "Obsolete, already included on the main region page and it is hard to edit on additional pages and nobody wants to see this in the "random page" mechanic also, please"

This page is a candidate for deletion.

Reason: "

Obsolete, already included on the main region page and it is hard to edit on additional pages and nobody wants to see this in the "random page" mechanic also, please

"

This page is a candidate for deletion.

Reason: "Obsolete, already included on the main region page and it is hard to edit on additional pages and nobody wants to see this in the "random page" mechanic also, please"

This page is a candidate for deletion.

Reason: "

Obsolete, already included on the main region page and it is hard to edit on additional pages and nobody wants to see this in the "random page" mechanic also, please

"

This page is a candidate for deletion.

Reason: "Obsolete, already included on the main region page and it is hard to edit on additional pages and nobody wants to see this in the "random page" mechanic also, please"

This page is a candidate for deletion.

Reason: "

Obsolete, already included on the main region page and it is hard to edit on additional pages and nobody wants to see this in the "random page" mechanic also, please

"


G3

Eastern Tropical
Lawless Region
Hepware Peninsula,Alafil Atoll,Troheim Isle,Nottingbour Island


G4

Eastern Tropical
Lawless Region
The Climbing Archipelago,The Collapsing Holm,Glasstone Island,Herminoque Archipelago,Verminster Isle


G5

Eastern Tropical
Golden Age Ruins
Stelgue Island

This page is a candidate for deletion.

Reason: "Obsolete, already included on the main region page and it is hard to edit on additional pages and nobody wants to see this in the "random page" mechanic also, please"

This page is a candidate for deletion.

Reason: "

Obsolete, already included on the main region page and it is hard to edit on additional pages and nobody wants to see this in the "random page" mechanic also, please

"

This page is a candidate for deletion.

Reason: "Obsolete, already included on the main region page and it is hard to edit on additional pages and nobody wants to see this in the "random page" mechanic also, please"

This page is a candidate for deletion.

Reason: "

Obsolete, already included on the main region page and it is hard to edit on additional pages and nobody wants to see this in the "random page" mechanic also, please

"

This page is a candidate for deletion.

Reason: "Obsolete, already included on the main region page and it is hard to edit on additional pages and nobody wants to see this in the "random page" mechanic also, please"

This page is a candidate for deletion.

Reason: "

Obsolete, already included on the main region page and it is hard to edit on additional pages and nobody wants to see this in the "random page" mechanic also, please

"


G5

Eastern Tropical
Golden Age Ruins
Stelgue Island

This page is a candidate for deletion.

Reason: "Obsolete, already included on the main region page and it is hard to edit on additional pages and nobody wants to see this in the "random page" mechanic also, please"

This page is a candidate for deletion.

Reason: "

Obsolete, already included on the main region page and it is hard to edit on additional pages and nobody wants to see this in the "random page" mechanic also, please

"

This page is a candidate for deletion.

Reason: "Obsolete, already included on the main region page and it is hard to edit on additional pages and nobody wants to see this in the "random page" mechanic also, please"

This page is a candidate for deletion.

Reason: "

Obsolete, already included on the main region page and it is hard to edit on additional pages and nobody wants to see this in the "random page" mechanic also, please

"

This page is a candidate for deletion.

Reason: "Obsolete, already included on the main region page and it is hard to edit on additional pages and nobody wants to see this in the "random page" mechanic also, please"

This page is a candidate for deletion.

Reason: "

Obsolete, already included on the main region page and it is hard to edit on additional pages and nobody wants to see this in the "random page" mechanic also, please

"


G6

Eastern Tundra
Golden Age Ruins
Durmore Island


G6

Eastern Tundra
Golden Age Ruins
Durmore Island


G7

Eastern Tundra
Golden Age Ruins
Cliffcolm Island


G7

Eastern Tundra
Golden Age Ruins
Cliffcolm Island


G8

Eastern Tundra
Lawless Region
Kamcord Enclave,Oxhurst Cay,Lapland,The Steep Key,Mulmeda Island


G9

Eastern Tundra
Lawless Region
Weswe Isle,Kinichester Reef,Thetnora Island,Dedhill Refuge,Kensinggate Peninsula


G10

Eastern Tundra
Claimable
Barkriden Island,Okoside Skerry,Ellingsort Holm,Lamtos Key


G11

Eastern Tundra
Claimable
Gray's Islands,Windsons Isle
Moved to the only page that used it
Region
Biome
Type
Islands
Resources
Consumables/Plants
Animals


H1

Eastern Tropical
Claimable
Wickersop Isle,Milafor Cove,Baunspanto Islands


H2

Eastern Tropical
Claimable
Middon Isles,Zara's Spot,Bloomfail Chain,Coalguay Peninsula,The Cheerless Island

This page is a candidate for deletion.

Reason: "Obsolete, already included on the main region page and it is hard to edit on additional pages and nobody wants to see this in the "random page" mechanic also, please"

This page is a candidate for deletion.

Reason: "

Obsolete, already included on the main region page and it is hard to edit on additional pages and nobody wants to see this in the "random page" mechanic also, please

"

This page is a candidate for deletion.

Reason: "Obsolete, already included on the main region page and it is hard to edit on additional pages and nobody wants to see this in the "random page" mechanic also, please"

This page is a candidate for deletion.

Reason: "

Obsolete, already included on the main region page and it is hard to edit on additional pages and nobody wants to see this in the "random page" mechanic also, please

"

This page is a candidate for deletion.

Reason: "Obsolete, already included on the main region page and it is hard to edit on additional pages and nobody wants to see this in the "random page" mechanic also, please"

This page is a candidate for deletion.

Reason: "

Obsolete, already included on the main region page and it is hard to edit on additional pages and nobody wants to see this in the "random page" mechanic also, please

"


H3

Eastern Tropical
Freeport
H3 Freeport Western Island,H3 Freeport Northern Island,H3 Freeport Eastern Island,H3 Freeport Southern Island


H4

Eastern Tropical
Lawless Region
Exterre Holm,Hilboia Reef,Cresleche Isle,Hinwood Island,Rockholm Island,Bienstable Reef,Oxsend Island

This page is a candidate for deletion.

Reason: "Obsolete, already included on the main region page and it is hard to edit on additional pages and nobody wants to see this in the "random page" mechanic also, please"

This page is a candidate for deletion.

Reason: "

Obsolete, already included on the main region page and it is hard to edit on additional pages and nobody wants to see this in the "random page" mechanic also, please

"

This page is a candidate for deletion.

Reason: "Obsolete, already included on the main region page and it is hard to edit on additional pages and nobody wants to see this in the "random page" mechanic also, please"

This page is a candidate for deletion.

Reason: "

Obsolete, already included on the main region page and it is hard to edit on additional pages and nobody wants to see this in the "random page" mechanic also, please

"

This page is a candidate for deletion.

Reason: "Obsolete, already included on the main region page and it is hard to edit on additional pages and nobody wants to see this in the "random page" mechanic also, please"

This page is a candidate for deletion.

Reason: "

Obsolete, already included on the main region page and it is hard to edit on additional pages and nobody wants to see this in the "random page" mechanic also, please

"


H5

Western Tropical
Lawless Region
The Decayed Archipelago,Blainrath Enclave,Chesterland Haven,Verlet Archipelago,Lamkasing Cay


H6

Eastern Tundra
Lawless Region
Penechill Holm,Wally Enclave,Saufield Key,Thetheller Refuge

This page is a candidate for deletion.

Reason: "Obsolete, already included on the main region page and it is hard to edit on additional pages and nobody wants to see this in the "random page" mechanic also, please"

This page is a candidate for deletion.

Reason: "

Obsolete, already included on the main region page and it is hard to edit on additional pages and nobody wants to see this in the "random page" mechanic also, please

"

This page is a candidate for deletion.

Reason: "Obsolete, already included on the main region page and it is hard to edit on additional pages and nobody wants to see this in the "random page" mechanic also, please"

This page is a candidate for deletion.

Reason: "

Obsolete, already included on the main region page and it is hard to edit on additional pages and nobody wants to see this in the "random page" mechanic also, please

"

This page is a candidate for deletion.

Reason: "Obsolete, already included on the main region page and it is hard to edit on additional pages and nobody wants to see this in the "random page" mechanic also, please"

This page is a candidate for deletion.

Reason: "

Obsolete, already included on the main region page and it is hard to edit on additional pages and nobody wants to see this in the "random page" mechanic also, please

"


H7

Central Tundra
Lawless Region
Menpids Haven,Terreboro Archipelago,The Hollow Refuge,Windertague Island,Gamding Atoll


H8

Eastern Tundra
Lawless Region
Langisle Holm,Buchside Holm,Cottlelem Peninsula,Greencona Cay,Dalwaki Ait


H9

Eastern Tundra
Claimable
Clifmar Reef,The Jagged Atoll


H10

Polar
Claimable
Smison Archipelago,Chesterlams Island,Gibliers Islet,Hillsjour Ait,Snowpike Isle


H11

Central Tundra
Claimable
Readlow Island
Region
Biome
Type
Islands
Resources
Consumables/Plants
Animals


I1

Eastern Tropical
Claimable
The Shadowed Reef,The Bursting Atoll,Millercona Chain


I2

Eastern Tropical
Claimable
Hudrood Holm,Tiverfail Archipelago,Mustois Peninsula,Sennewich Enclave,Grensby Ait


I3

Western Tropical
Claimable
The Collapsing Holm,Boltois Cay,Leaminggus Skerry,The Faraway Haven


I4

Eastern Tropical
Claimable
Terhill Enclave,Pasland Island,Bordgar Cay,Glenminster Holm,Hebjour Reef

This page is a candidate for deletion.

Reason: "Already included on the main region page 'cause it is hard to edit on additional pages (particularly on smartphones). And nobody wants to see this in the "random page" mechanic too"

This page is a candidate for deletion.

Reason: "

Already included on the main region page 'cause it is hard to edit on additional pages (particularly on smartphones). And nobody wants to see this in the "random page" mechanic too

"

This page is a candidate for deletion.

Reason: "Already included on the main region page 'cause it is hard to edit on additional pages (particularly on smartphones). And nobody wants to see this in the "random page" mechanic too"

This page is a candidate for deletion.

Reason: "

Already included on the main region page 'cause it is hard to edit on additional pages (particularly on smartphones). And nobody wants to see this in the "random page" mechanic too

"

This page is a candidate for deletion.

Reason: "Already included on the main region page 'cause it is hard to edit on additional pages (particularly on smartphones). And nobody wants to see this in the "random page" mechanic too"

This page is a candidate for deletion.

Reason: "

Already included on the main region page 'cause it is hard to edit on additional pages (particularly on smartphones). And nobody wants to see this in the "random page" mechanic too

"


I5

Western Tropical
Lawless Region
Walfield Atoll,Barnmis Enclave,Templebalt Islet,Stratsack Isles,Gaulto Reef


I6

Central Tundra
Lawless Region
Arlingmagne Key,The Brilliant Isle,Berthierforte Holm,Beavercoln Cay

This page is a candidate for deletion.

Reason: "Obsolete, already included on the main region page and it is hard to edit on additional pages and nobody wants to see this in the "random page" mechanic also, please"

This page is a candidate for deletion.

Reason: "

Obsolete, already included on the main region page and it is hard to edit on additional pages and nobody wants to see this in the "random page" mechanic also, please

"

This page is a candidate for deletion.

Reason: "Obsolete, already included on the main region page and it is hard to edit on additional pages and nobody wants to see this in the "random page" mechanic also, please"

This page is a candidate for deletion.

Reason: "

Obsolete, already included on the main region page and it is hard to edit on additional pages and nobody wants to see this in the "random page" mechanic also, please

"


I7

Central Tundra
Lawless Region
The Shadowy Isle,Yarsard Reef